Welcome to the Open Forum Group!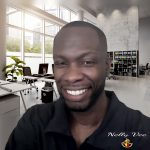 This community is dedicated to encouraging discussions and sharing across a wide range of topics, including Culture, Diversity, Music, Art, Poetry, News, Inspiration, Creativity, Learning, Family, Love, Relationships, and Laughter. We promote respectful conversations and open dialogues.
Say hello to Cultures of Art, Poetry & Short Stories (#CAPS). Here, you have the freedom to express your thoughts, creativity, opinions, works, and personal stories. It's a space where you can connect with like-minded individuals who share a global perspective. We're actively looking for diverse bloggers, writers, creators, poets, artists, musicians, and storytellers who are enthusiastic about contributing to the growth of our community.
Our community is an extension of KVI Network Creations, LLC, represented by #KnightVision.Ink, #KVINetworkCreations, and #KVINC. As the Founder, I'm excited to meet you. I believe in an open-door policy and encourage communication through Voice, Text, Google, WhatsApp at +1 (401) 388 0016, or email at [email protected].
Thank you for being a valuable part of our dynamic community!