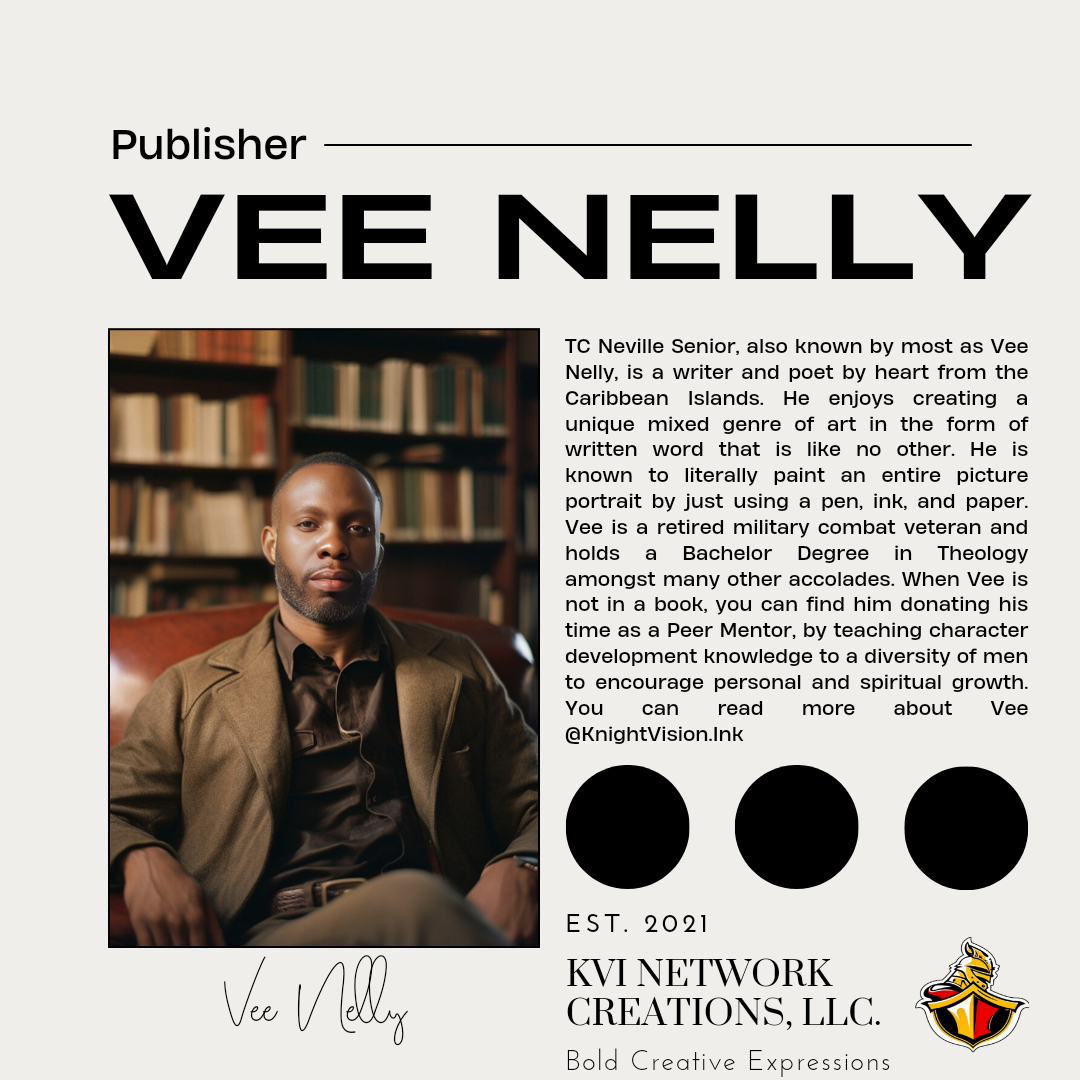 TC Neville Senior, also known by most as Vee Nelly, is a writer and poet by heart from the Caribbean Islands. He enjoys creating a unique mixed genre of art in the form of written word that is like no other. He is known to literally paint an entire picture portrait by just using a pen, ink, and paper.
Vee is a retired military combat veteran and holds a Bachelor Degree in
Theology amongst many other accolades. When Vee is not in a book, you can
find him donating his time as a Peer Mentor, by teaching character
development knowledge to a diversity of men to encourage personal and
spiritual growth. You can read more about Vee by visiting his handle
KnightVision.Ink on the 'https://linkt.ree.com/knightvision.ink' platform.
I Am Humble, Inspirational and Creative
My true intention for creating this website was a means to inspire my children, (also artists and writers) bring families and culture together, and a place where any new author or artist can come and share (without discrimination) their inspiration, talent, craft, and stories.
Some describe me as a little unorthodox. I am inspired by music and anything involving love.
What They Say


Hezekiah Morris★★★★★ Read More
He was great and innovative. Helps you with all your needs. Even has author contest that I won. Great site. Check it out




Melanie Johnson★★★★★ Read More
I have truly enjoyed being interviewed by knightvision.ink. Sharing my story with Vee then seeing the final result from our interview was the ultimate experience. My words were expressed as clearly as I used them and the review that followed was an endearing summation of the mission of the message in …




Diana Hill★★★★★ Read More
Diana Hill gives KVI NETWORK CREATIONS a 5 stars rating.




J★★★★★ Read More
J gives KVI NETWORK CREATIONS a 5 stars rating.




Rahama Onono★★★★★ Read More
KVI Network Creations is a very good platform, and if I get the opportunity again Ill still choose it and recommend it to hundreds and thousands of people out there.




Binte Wahid Murad★★★★★ Read More
Awesome experience I have with Vee . The nice and kind person I have ever seen in my life. He is humble polite and always provide detailed information about project. I wish him all the success in the world.




C. Robert★★★★★ Read More
KVI NETWORK CREATIONS will help authors such as myself to promote, write, and edit your books. Just as how he helped me to promote and get my books on the different sites such as B&N Press, Bookemon, Lulu, and most of all Amazon, all for simple and a low packaged deal. This business seems to put truly …




Javeriah Hameed★★★★★ Read More
Javeriah Hameed gives KVI NETWORK CREATIONS a 5 stars rating.




Lasheka Lee★★★★★ Read More
I have had the privilege of working with KVI Network Creations and it was a fantastic experience. I was the Author of the week and KVI created a awesome spotlight creation of my work/book. The website is great!! Very informative and shows so much creativity!!!! I look forward to seeing what else is …




Chyrel J Jackson★★★★★ Read More
Love KVI Network creations so much. I am specifically speaking of the blog and author interviews in particular. There are all kinds of services provided as well with a team of creative professionals. One of those people that should receive recognition is Nisa. Id like to thank and acknowledge Design …




Abdus Salam★★★★★ Read More
Nice service




Liton Islam★★★★★ Read More
Awesome service




MEGATRON 707★★★★★ Read More
Very pleasing.