"You Have Not Because You Ask Not"
In today's feature, we cast the spotlight on Melanie M. Johnson, the Author and Founder of Busta Word Publishing, LLC. Melanie resides in the rural south of Laurel, Mississippi. Her chosen genre is "Self-help" or "Motivational," a perfect reflection of her character.
Despite facing significant challenges and pain, Melanie's voice couldn't be silenced any longer. Her words have ignited sparks of truth and inspiration in the lives of many. Her journey began about two years ago when she contributed a poem to an anthology for Black Lives Matter titled "Let Me Breathe," following the tragic event of George Floyd's murder.
Her strength and inspiration arise from personal struggles, particularly a tumultuous 23-year marriage marked by domestic abuse and suicide attempts. Writing became her therapy, aiding her own healing. Inspired by her mentor, she decided to share her words with others to help them in their healing journeys. With her mentor's guidance, she started writing transparently, believing in the power of her reality to bring healing to others.
Melanie is currently working on her first poetry book, "Flavor of Melanin," set to release on Amazon on March 13, 2022. She's also collaborating on an anthology dedicated to fathers, scheduled for release as an e-book on Father's Day 2022, with proceeds benefiting a charity. She plans to continue sharing her story and work with other authors and poets under her company, Busta Word Publishing, LLC.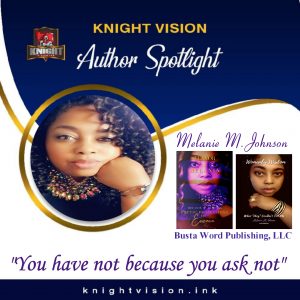 Melanie's actions embody the concept of faith coupled with works. Her favorite quote, "You have not because you ask not," underlines the importance of seeking and speaking up. Her works, including "Womanly Wisdom: What 'they' Couldn't Tell Me," are available on platforms like Amazon, Barnes & Noble, and Goodreads.
In parting, Melanie encourages others to carve their own unique paths rather than comparing themselves to others. Each individual's journey is distinct and should be honored as such.
The interview concludes by acknowledging the influence of fellow author Chyrel Jackson, who connected Melanie to the spotlight event hosted by KVI Network Creations. Melanie's story is a testament to resilience, urging us all to persistently seek and strive for our goals.
Sincerely,
The KV.INC-Team
www.KnightVision.Ink
KVI Network Creations