Description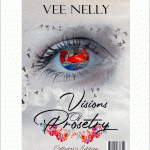 Hey there book lovers! Get ready to immerse yourself in the captivating world of Prosetry with our exclusive Collector's Edition of "Visions of Prosetry"! With various stunning covers to choose from, designed by the talented Alexis Design, this 260 page book is a must-have for any poetry enthusiast.
Penned by the amazing Vee Nelly, this book includes some of his most renowned works such as "Poetic Knight", "Thorns & Roses", "MidKnight Rendezvous", "Urban Prose & Short-Stories" and much more!
Our standard color PDF print 6′ X 9″ soft cover book & digital format is the perfect way to enjoy this masterpiece. And with our GTIN/UPC# 6-76351446400, you can rest assured that you have the real deal!
Worried about shipping and handling? Don't be! We offer 3-5 days shipping and handling, and if you're not satisfied with your purchase, we offer a 30-day money-back guarantee! Plus, we've got you covered with the shipping price included.
So what are you waiting for? Contact us before purchase if you have any questions in advance and get ready to experience the magic of "Visions of Prosetry"!