Description
Spoken Word: Love Above the Label
Hey there, it's Linette! Calling all poets, writers, and the creatively inspired: Dive into the #loveabovethelabel poetry competition by KVI Network Creations LLC—a Rhapsody and Rhyme Poetry Contest! While I'm not throwing my hat in, I'm spreading the inspiration on the theme. Check out the link for the latest submissions! 📚✨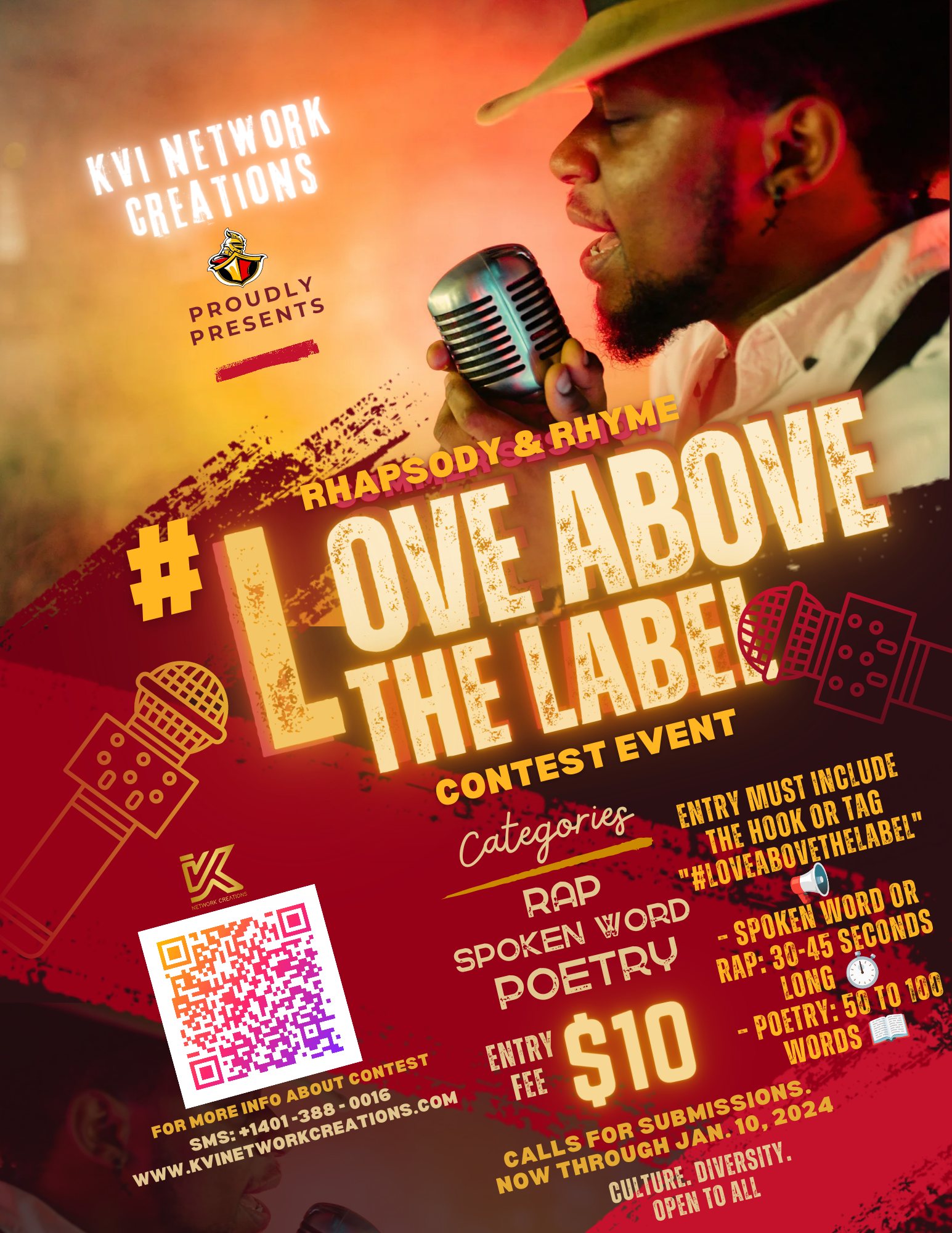 Elevating Artistry: Rhapsody & Rhyme's Transformative Celebration 🎨🎶
In the realm of artistic expression, Rhapsody & Rhyme stands as a beacon of creativity, inviting individuals to contribute their unique voices to a collective narrative. Hosted by KVI Network Creations, this contest spans Rap, Spoken Word, and Poetry, offering a platform that goes beyond the ordinary. Collaborating with an affiliate who's played alongside R&B luminaries like Fantasia and Johnny Gill, the event promises a harmonious blend of experiences, perspectives, and creative energies.
A Harmonious Affiliation: Elevating Artistry Together 🤝
The collaboration with the affiliate steeped in the musical realms of Fantasia and Johnny Gill enriches Rhapsody & Rhyme with a seasoned perspective. This affiliation is a testament to the contest's commitment to fostering a diverse and inclusive platform, encouraging participants to explore new dimensions in their creative expressions.
Pros of Submissions: Investing $10.00 for Priceless Exposure 💸🌟
For a modest entry fee of $10.00, participants gain access to a stage where their artistic prowess can be witnessed by a broad and diverse audience. The exposure extends beyond the contest itself, as KVI Network Creations and its affiliate actively promote the event, providing artists with an invaluable opportunity to expand their reach.
A Gateway to Industry Connections 🌐
Rhapsody & Rhyme, in collaboration with its affiliate, serves as a gateway to industry connections. Participants stand to benefit from the extended network and expertise brought in by the affiliate, opening doors to potential collaborations, mentorship opportunities, and a deeper understanding of the music and poetry landscape.
Seeking Sponsors: Join the Movement, Elevate the Arts 🚀
As the excitement builds for Rhapsody & Rhyme, KVI Network Creations extends an invitation to potential sponsors eager to contribute to this transformative event. With an affiliate deeply embedded in the music industry, the contest is poised to resonate with creativity, and additional sponsors have the chance to make a lasting impact on both the artists and the audience.
Pros for Sponsoring Rhapsody & Rhyme: A Win-Win Collaboration 🏆
Visibility and Recognition: Sponsors have the opportunity to align their brand with a dynamic and culturally significant event, fostering brand recognition and positive sentiment.
Community Engagement: Supporting Rhapsody & Rhyme is a chance to engage with a vibrant community of artists and enthusiasts, becoming an integral part of a movement that celebrates creativity and diversity.
Access to Talent: Sponsors gain access to a pool of emerging and established talent in Rap, Spoken Word, and Poetry, opening avenues for potential collaborations and partnerships.
Ways to Donate and Sponsor 🤲:
Monetary Contributions: Provide financial support to the contest, contributing to prize pools, event logistics, and promotional activities.
In-Kind Contributions: Offer goods or services that enhance the overall experience of the event, from equipment to promotional materials.
Prize Sponsorship: Contribute directly to the winners' rewards, whether in the form of cash prizes, artistic collaborations, or opportunities for exposure.
Promotional Partnerships: Collaborate on promotional activities, leveraging marketing channels to increase awareness about Rhapsody & Rhyme.
Exclusive Event Experiences: Create unique experiences or activations during the event, providing an immersive engagement for participants and attendees.
Conclusion: Join the Movement, Become a Sponsor 🌟
Rhapsody & Rhyme, with the collaborative spirit of KVI Network Creations and the support of sponsors, becomes more than an event; it transforms into a resonant symphony of artistic brilliance. Prospective sponsors are not only contributing to the success of the contest but also playing a vital role in nurturing the next generation of artistic voices. Join the movement, become a sponsor, and together let's elevate the artistry of Rhapsody & Rhyme.
"AMPLIFYING VOICES: RHAPSODY & RHYME – UNITING THROUGH #LOVEABOVETHELABEL 🎤❤️"
RHAPSODY & RHYME:
#LOVEABOVETHELABEL CONTEST EVENT is a unique and captivating experience that blends the power of poetry and music. This event showcases talented poets and musicians who come together to celebrate the beauty of love and self-expression. Attendees can expect an enchanting evening filled with soulful performances, heartfelt spoken word, and melodious tunes that uplift and inspire.
The #LOVEABOVETHELABEL contest allows participants to share their own poems and songs on social media, spreading a message of love and acceptance. This event aims to create a space where individuals can embrace their unique voices, celebrate love in all its forms, and foster a sense of unity and inclusivity. Join this extraordinary celebration of artistry and love, and be moved by the power of words and melodies.
Mission Statement:
At KVI Network Creations, we believe in the power of art and expression to drive positive change. Our mission is to foster creativity and raise awareness about pressing societal issues through the art of rap, spoken word, and poetry. We aim to inspire unity, empathy, and dialogue that transcends labels, giving voice to the voiceless and promoting love above all. Together, we can make a difference.
Categories:
– Rap 🎵
– Spoken Word 🗣️
– Poetry 📝
There will be one winner selected from each of the three categories: Rap, spoken word, and poetry.
Embrace Culture & Diversity 🌍🌈
– All Submissions Welcome 🤗
Entry Details:
– Entry Fee: $10.00 💵
– Submissions Accepted: Now until January 10th, 2024 📅
Prizes and Awards 🏆🥇
– Determined by the total number of submissions 📊
How This Event Benefits the Public:
– Raises awareness about critical issues
– Fosters creativity and self-expression
– Promotes unity and empathy
– Provides a platform for underrepresented voices
– Encourages positive change in our communities
How Donations and Sponsors Will Help:
Your generous donations and sponsorship support will:
– Provide financial assistance to organizations tackling issues like domestic violence, poverty, and prison reform.
– Fund initiatives that promote anti-discrimination and anti-racism efforts.
– Create educational opportunities for underserved communities.
– Amplify the impact of our event, allowing us to reach more people and make a greater difference.
Theme:
– #LoveAbovetheLabel ❤️
– Bring Awareness to Critical Issues:
– Domestic Violence 👫
– Poverty 💔
– Prison Reform ⛓️
– Discrimination 🚫
– Racism ✊
Submission Guidelines:
– Entry must include the hook or #LoveAbovetheLabel 📢
– Spoken Word or Rap: 30-45 seconds long ⏱️
– Poetry: 50 to 100 words 📖
🕶️ 👉 After Entry Fee is complete, you may submit your video link or video, audio, and poem to us to be entered in. You will then be provided with a unique entry number for your submission. We will post your link and or content to our Facebook page using the hashtag #LoveAbovetheLabel
Join Us! 🤝
Don't miss the chance to make your voice heard and support a cause that matters.
**Subscribe for More Details:** kvinetworkcreations.com 🌐✉
Contact us at [Text+1401-388-0016] ☎️ or visit our website for more information.
Follow us on social media 📲👍
#ChangeMakers #RhapsodyAndRhyme #LoveAboveHate ❤️🙌